Details

Hits: 179680
Our best tour package in Nicaragua in 2018
---
4 Elements of NICARAGUA in 14 days

Discover the essential and most of Nicaragua
Best price guarantee from 940 USD/person

---
Musts: colonial cities, accessible volcanoes, island, lake, Pacific beaches.

Options: Self drive, guided tour and customized.

Category: All public, family, small group or individual..
INCLUDED SERVICES:

* 13 nights in standard hotels

* All breakfasts


* All transfers and excursions according to the itinerary


* Bilingual private guide (English/Spanish)


* Private transportation with driver

* All entrances to: national parks, volcanoes and museums

ITINERARY

14 Days & 13 nights


Day 1 - MANAGUA

Day 2 - MANAGUA/LEON

Day 3 - LEON/LAS PENITAS

Day 4 - LEON/CHICHIGALPA

Day 5 - LEON/GRANADA

Day 6 - GRANADA/VOLCAN MASSAYA

Day 7 - GRANADA/LAS ISLETAS

Day 8 - GRANADA/LAGUNA DE APOYO

Day 9 - GRANADA/ILE OMOTEPE

Day 10 - OMOTEPE/SANTO DOMINGO

Day 11 - OMOTEPE/MADERAS/PLAGE

Day 12 - OMOTEPE/SAN JUAN DEL SUR

Day 13 - SAN JUAN DEL SUR

Day 14 - SAN JUAN DEL SUR/MANAGUA
---
Itinerary day by day of this tour package in Nicaragua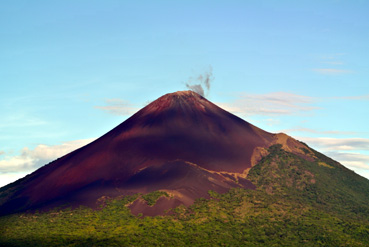 NOTE - Most of the hotels were chosen because they are eco-friendly, such as Hotel Real in Leon, Hotel Los Arcos in Estelí and Hotel Colonial in San Juan del Sur, who redistribute 90% of their profits to social projects. These are managed by local communities or associations and they offer a first class service.
---
Colonial cities, volcanoes and Lake of Nicaragua.
---
Day 1: ARRIVAL IN NICARAGUA
Arrival at Augusto César Sandino airport in Managua, Nicaragua's capital, where your Coco Tours guide will be waiting. If your flight arrives late in the afternoon, the first night will be in Managua and if possible we can drive directly to Leon.
According to your arrival time in Managua, tour of this country's capital city with 2 million inhabitants which historic center was partially destroyed during the earthquake of 1972. We will visit the historic center and the popular market Roberto Huembes.
León and surroundings for 3 nights

Day 2: MANAGUA – LEÓN - THE ROUTE OF VOLCANOES
Transfer to the colonial city of Leon, travel time: 2 hours and a half.
Today will be all about volcanology. First, we will visit the RUINS OF OLD LEON: first city founded in Nicaragua, threatened by lava projections and several earthquakes caused by the Momotombo volcano, it was destroyed and abandoned in 1610, and then buried by ash. This site has been declared Heritage of Humanity by UNESCO and is surely one of the most important paleontological sites in Central America.
Afterwards, we will visit the Hiervideros, an impressive field of volcanic mud holes.
On the way, we can observe the volcanoes of San Cristobal, Telica, El Hoyo, Las Casitas, Momotombo, Momotombito and the famous Cerro Negro with its volcanic sand. Lunch in a typical Nicaraguan restaurant.
We continue our way to Leon where we will taste typical dishes of Nicaragua. Overnight in León.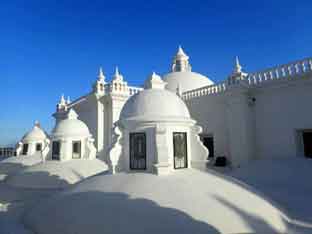 Day 3 : COLONIAL CITY OF LEÓN – PACIFIC COAST (LAS PEÑITAS)
Accompanied by your guide, we will visit the historic center of León built after the destruction of Leon Viejo in 1610. Passing by several buildings from the colonial era, we will go up to the bell tower of the greater Central American Cathedral, Basílica Catedral de la Asunción de León, to enjoy a panoramic view of the city and volcanoes. Afterwards, we will visit the Ruben Dario Museum or Museo de la Revolución.
Later, we will drive towards the coast, at 20km from the city of León, to enjoy the fishermen village and beaches of Las Peñitas where you can enjoy freshly caught fish Nicaraguan style. Time to relax on the beaches of Las Peñitas.
Possible excursion from Las Peñitas (not included): Natural Reserve "Isla Juan Venado" Boat ride of 3 hours through the mangroves in search of the many species that inhabit these channels and finally arrive on the deserted island of Juan Venado.
Note: Perhaps we will have the chance to see turtles hatching eggs (September to December), or mating whales and orcas (April-May).
Possibility of kayak renting and surf equipment. Overnight in León.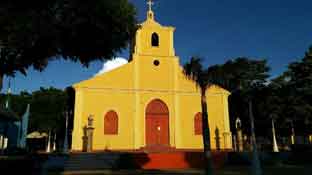 Day 4: LEÓN – CERRO NEGRO or Rum factory
CERRO NEGRO VOLCANO is active and one of the most accessible since the ascent is made in 1 hour and a half. We can descent it surfing or sledding down the volcanic sand slopes.
OR visit the famous Flor de Caña Rum Factory. Considered the best rum in Central America and one of the best in the world, Flor de Caña has won 72 international awards. You will know the history of this impressive distillery and all processes and manufacturing steps of the renowned rum.
The afternoon is free, so you can choose to do an activity of your choice (not included). Overnight in Leon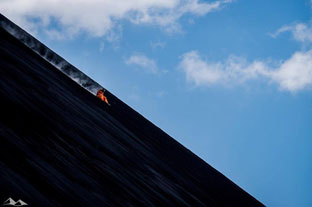 Possible excursions from LEÓN
• RUBEN DARIO MUSEUM is one of the houses in Leon where the famous Nicaraguan poet lived for 14 years. The museum displays some of his works and describes his life and history during the colonial era.
• MUSEUM OF THE MYTHS AND LEGENDS tells many stories, beliefs and traditions that are transmitted for generations in León.
• THE SUTIAVA NATIVE MUSEUM preserves archeological pieces of the first inhabitants of León before the arrival of Spanish colonizers.
• FUNDACION ORTIZ GURDIAN ART GALLERY This cultural center displays a collection of oil paintings, screen printing, lithography, etchings, sculptures in bronze, wood, stone and craft, ending with contemporary art.
---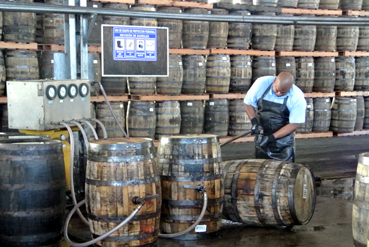 Rhum Factory

Volcanoes from León...
• TELICA VOLCANO is active and has a visible crater of 200 meters deep. The ascent (and return) requires at least five hours for an average walker. We recommend to camp at the top to enjoy its magical lava spectacle at night.
• MOMOTOMBO VOLCANO is Nicaragua's symbol by its very symmetrical shape and amazing colors. Ascent in approximately 8 hours.
• SAN CRISTOBAL VOLCANO is the grandfather of all the volcanoes in the Pacific region and the highest reaching 1745 meters. Ascent in approximately 6 hours.
• We also organize a 2 day camping expedition from LEÓN starting from CERRO NEGRO to reach MOMOTOMBO. Only for experienced hikers. We are the only agency to offer this hike.
Extensions from León (1 or more extra days)
COFFEE AND CIGAR TOUR: in the northern regions, such as Ocotal, Estelí and Matagalpa, we will visit and discover the secrets of famous cigar factories and learn about coffee plantations and cooperatives.
---
Colonial cities of Granada and Masaya, volcano and Lake of Nicaragua.
---
Granada and surroundings for 4 nights
Day 5: LEÓN – GRANADA, volcán MASAYA
After the breakfast, we will leave León to get to Masaya Volcano National Park (travel time: 2 hours) (for everyone, no walking).
We will start by visiting the museum of volcanology which traces the history of volcanic activity in Nicaragua. Then, we will get to the impressive crater Santiago, active since 1670, which gases are escaping from the boca del infierno.
Possibility of hiking in an impressive cavity formed by lava in which you can observe three bat species.
Then, we continue our way to Granada, travel time: 40 minutes. Overnight in Granada.


Day 6: Mombacho Volcano - Historic Centre of GRANADA
This morning we will go to Mombacho Volcano National Park. Upon our arrival, we visit the interpretive museum. Then the climb to the summit of the volcano takes about one hour and a half to two hours, hard level, all uphill. Once at the top, we will take the trail in the forest bordering a crater to observe wildlife and endemic flora of the nature reserve and enjoy a panoramic view of Granada, Las Isletas and Apoyo Lagoon (about 1 hour).
In the afternoon, guided tour of the colonial city of Granada. This city was founded in 1524 by Capitán Francisco Hernández de Córdoba around the Mombacho volcano and on the edge of the great Lake Nicaragua (Cocibolca).
First, we will visit the historic center of Granada, including Central Park, the Cathedral and many churches and convents. The San Francisco Monastery houses the Museum of Primitive Paintings and pre-Columbian statues. We end our day with a visit to the public market. Overnight in Granada.
Possibility to do the city tour by carriage or bicycle
Extras:
· Ride to the top of the volcano abord a 4X4 (recommended).
· Canopy (zip lines) Perched above the forest you ride 11 cables and follow 17 platforms for 1 hour and a half.
· Hike 4 hours around the volcano.
Day 7: GRANADA - LAS ISLETAS

Boat trip on one of America's largest lake, Lake Nicaragua (Cocibolca). We will discover some of its 365 islands (las Isletas) formed by the eruption of Volcan Mombacho. We will be able to see hundreds migratory birds species that inhabit this lake, monkeys and its impressive vegetation. For lunch, you can enjoy a fresh fish on the banks of this impressive lake.
Note that in this lake live the only freshwater sharks in the world: the bull sharks.
The afternoon will be free, so you can make the activity of your choice.
Possible activities (not included):
- Visit the ChocoMuseo, where you know all the stages of making chocolate from the processing of raw cocoa. You'll even have the chance to create your own chocolate bar helped by specialists.
- Visit different museums and exhibitions in the city, including the Museum of the Convent of San Francisco, Mi Museo (collection of pre-Columbian ceramics) and La Casa de los Tres Mundos (formerly Casa de los Leones), etc.
- The butterflies reserve
- Massages and beauty care
Day 8: GRANADA - MASAYA markets and Laguna de Apoyo.

In the morning we will visit the colonial city of Masaya, which has over 1000 years of history. In the sixteenth century, Spanish settlers have organized this small town in a large craft workshop making, among others, the most popular hammocks in the world.
- Visit of the historic center
- Visit of the craft market and the central market
- We will also visit the Casa de las Hamacas, handicraft hammocks center.
For lunch, we will go eat, swim and relax at Laguna de Apoyo. On the way we pass through the Pueblos Blancos (white villages). Then we will descent by vehicle or walking to the lagoon, which is actually a source of water incredibly cool and blue in the crater of an ancient volcano. Back to Granada for the night.
---
Lake Nicaragua and Ometepe Island

---
Day 9: GRANADA – OMETEPE ISLAND for 2 nights.
Transfer to Rivas to board the ferry that will take us on the world's largest volcanic island in a freshwater lake: Ometepe Island. Travel time: 2 hours drive + 1 hour ferry.
This island, besides of being associated with myths and legends, is nicknamed the "oasis of peace" for its Zen population living in harmony and setback from the rest of the world.

On arrival at the port of Moyogalpa, we will take the road that bypasses the Concepción volcano through small communities and the famous lagoon of Charco Verde known for its famous Nahuatl Indian legends to finally arrive in Santo Domingo.
From your hotel in Santo Domingo, you can enjoy the most beautiful beaches of the lake that looks like an inland sea. Overnight in Santo Domingo, Ometepe.
Day 10: Beaches and activities
This day will be scheduled to laze on the beaches of the island, to do various activities such climbing the volcano for a landscape breathtaking.
Possible excursions on OMETEPE island (not included):
• Hike to San Ramon waterfalls on the Maderas volcano (3 hours).
• Swimming in natural pools Ojo de Agua.
• Visit tobacco dryers, banana or coffee plantations.
• Visit pre-Columbian petroglyphs and Hacienda Magdalena.
• Visit the numismatic museum that traces the history of the Nicaraguan currency Cordoba and cocoa.
• Courses of local cuisine.
• Bicycle, scooter or motorbike rental to ride on the island.
• kayaking on the Istiam river, pleasant 3 to 5 hours excursion between the two volcanoes.
• Climbing the Maderas volcano (1394 meters). From the Hacienda Magdalena, through the rainforest to the crater where you can enjoy breathtaking panoramic views. Then we will descend into the crater flooded with amazing turquoise water source. Hiking time: 6 hours.
• Climbing the Concepción volcano (1610 meters), between 7 and 8 hours of walking and climbing the last hundred meters.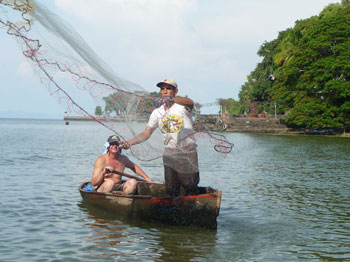 ---
Pacific or Caribbean beaches
---
Day 11 to 13: OMETEPE - SAN JUAN DEL SUR for 3 nights.
Transfer to the Pacific coast, travel time: 2 hours. San Juan del Sur is the seaside destination of Nicaraguan and very popular for Ticos (Costa Ricans). Program: rest and activities on the beach and surroundings.
Many extra activities:
- Night Observation of turtle nesting on the beach of La Flor wildlife refuge (mainly between July and January)
- Canopy (zip lines)
- Surfing and clases
- Small hikes to the caves or to Cristo statue overlooking San Juan Bay.
- Massages and beauty care
- Yoga sessions and clases
- Sporting or traditional fishing excursions
- Bike, scooter, motorcycle, quad, surfing, paddle rental
- Boat rides, yacht, catamaran.
Day 14: SAN JUAN DEL SUR – MANAGUA
Transfer to Managua airport to connect with your international flight. Travel time: 2 hours and a half.
---

Possible extension on the Caribbean Coast: CORN ISLAND formed by Big and Little Corn is a small paradise lined with white sand beaches and crystal clear waters of the Caribbean Sea. This paradise is a perfect haven for lovers of exotic beaches, diving, snorkelling and coral reefs. Corn Island has a sufficient tourist infrastructure. Note that to get to the islands, you take a domestic flight.
---
*** You can extend or shorten the stay! ***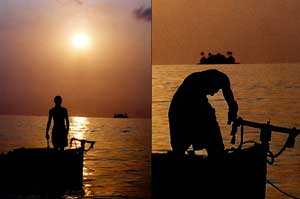 ---


---
---

*** Possibility to extend or shorten the journey! ***